SaveCoin Works For Your Business!
SaveCoin, headquartered in Fargo, ND, offers dynamic advertising solutions to a growing interactive audience of 34,000 email subscribers, 500 SMS/Test subscribers, 10,000+ facebook followers, 600 Twitter followers, and 26,000 unique weekly website visitors. There are Several distinct options; Daily Deal campaign, Coupon program, exclusive and targeted "Showcase" emails, and banner ads.
---
What a Daily Deal Campaign Means To You
You Pay Us
…Nothing!!!
Yes, nothing! We create the campaign, we promote your business to many thousands of people through multiple media, they buy your deal and receive a redeemable voucher, we simply split the purchase revenue and WE pay YOU. It's that simple. If no deals are purchased it literally costs you nothing!
We Only Win
If You Win!!!
SaveCoin offers your business efficient, measurable, risk-free marketing, Exponential viral marketing opportunity, Track customers and sales , Drives people to your business, Builds your web presence, Generates traffic to your website, Shares your business story, Puts your business in the spotlight.
---
How it Works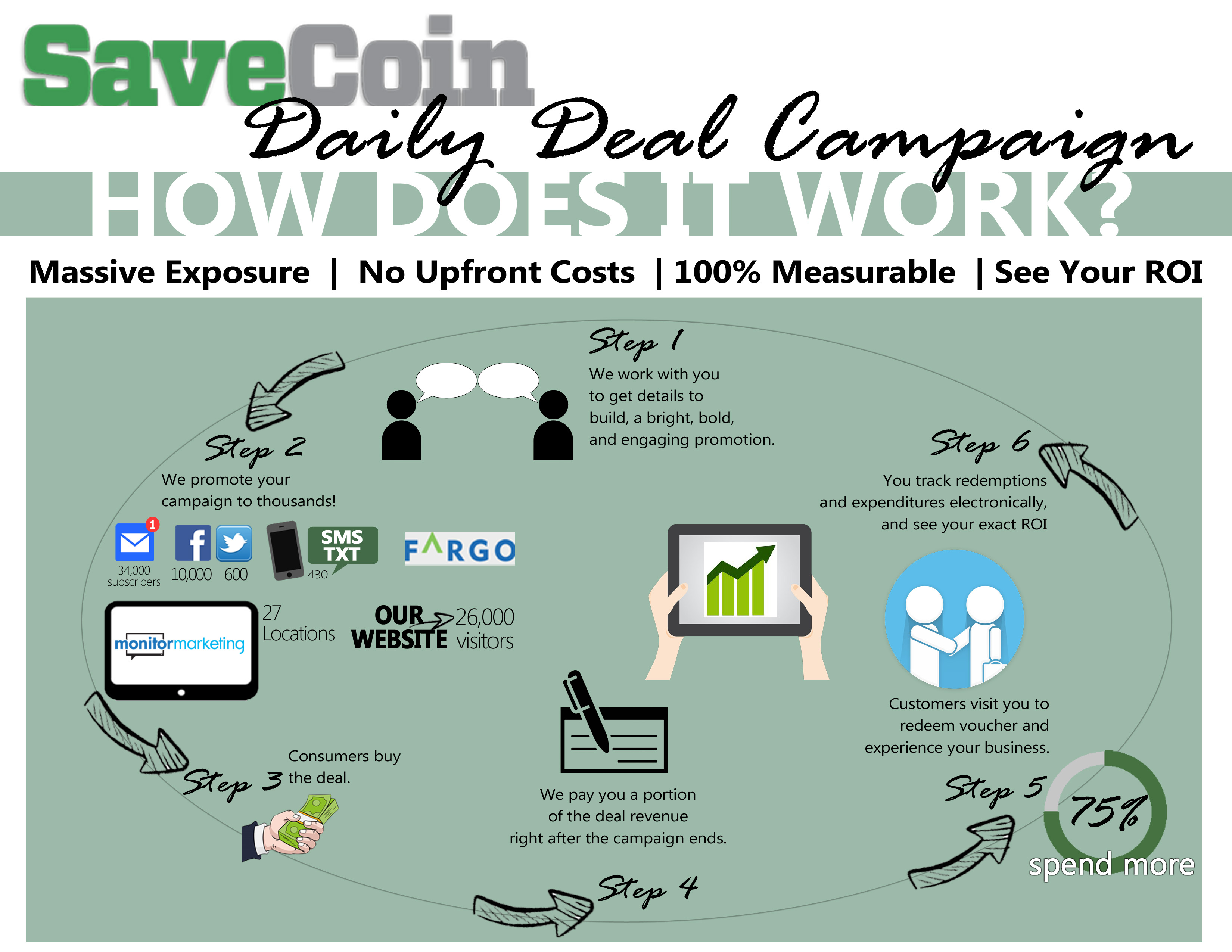 TESTIMONIALS
Great Plains Hospitality (The Boiler Room, Twist, The Otter Supper Club & Lodge, Chef's Table Catering)

"We have used SaveCoin as a great way to promote all of our restaurants over the past few years, and have intentions of continuing to do so! There aren't many advertising opportunities that actually pay you to promote your business, while at the same time only costing you money if a customer actually walks through your doors! We get excited for our annual campaigns and the new customers it will bring to our restaurants, as well as provide an opportunity for loyal guests to snag some extra savings for themselves!"
"Last night was our opening night and all I can say is WoW. We went from not existing to lots of people knowing about us and we credit SaveCoin with that jump in a big way. It has gotten us cash in our bank account fast---likes on Facebook---people into our business---TV, newspaper and magazine press. We could not have asked for more.""
"Our company did a Save Coin Deal of the Day and we loved the results. We enjoyed watching it day by day to see how many had purchased. Save Coin has been great to work with. The process is easy as can be. We sent in our pictures and they produced the ad. We will definitely do another Save Coin deal in the future! The process is simple, easy and fun! A great way to generate revenue and exposure for your business!"
"The Fargo Theatre could not be more satisfied with the results we've seen through our partnership with SAVECOIN. This local company provides excellent customer service, meets the ever-evolving demands of popular technology and allows merchants like us to reach new customers. Each and every time we run a "Daily Deal" the Theatre sees immediate and long term benefits--we are so glad to be on the SAVECOIN Team!"
Coupon Program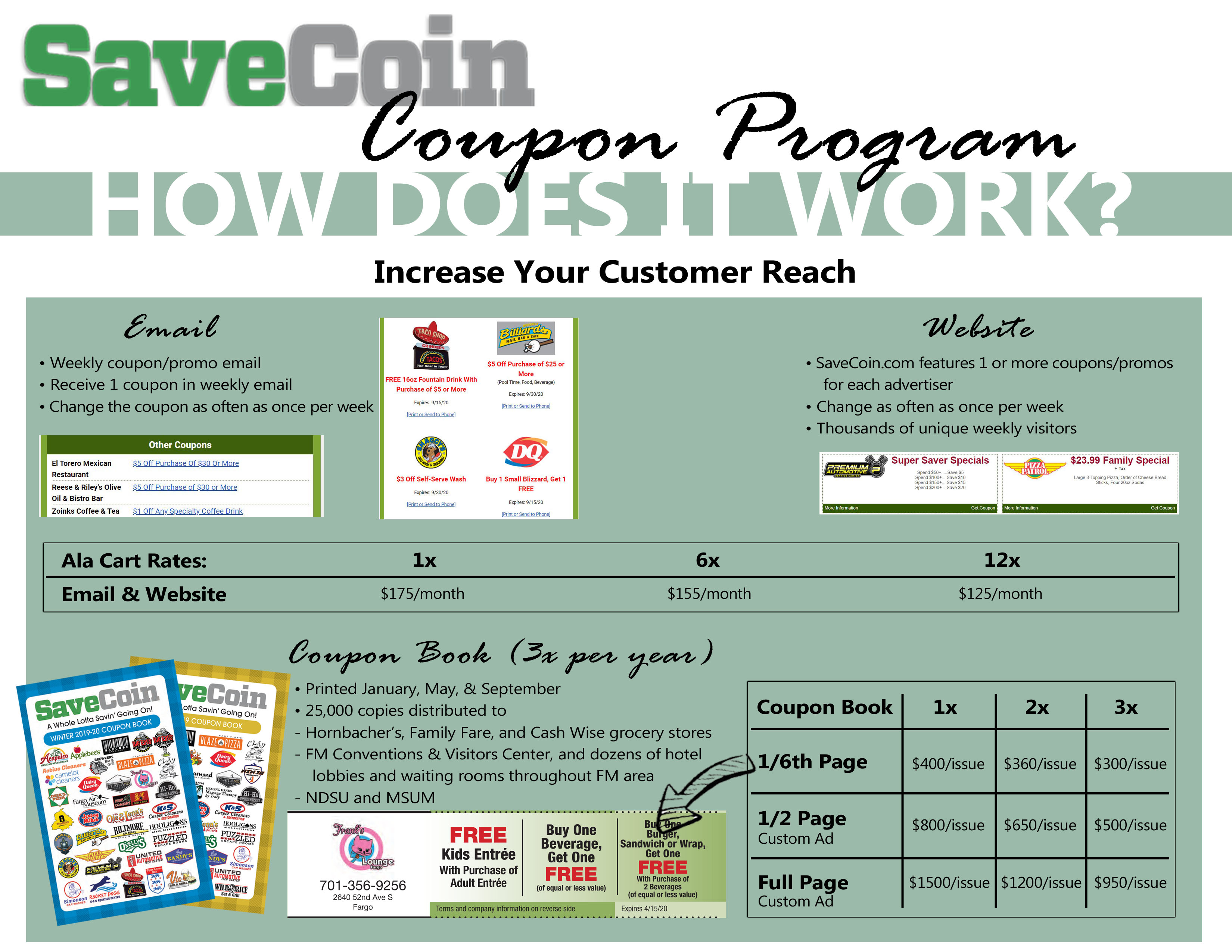 ---
Other Options Include
Showcase Emails
- Exclusive targeted email send from SaveCoin to our subscriber base "Showcasing" your business
- The email can include text and graphics for a customized presentation
Banner Ads
- Custom designed home page banner ad, which can link directly to your website
---